Hey there y'all!
It has been MONTHS since I have blogged! Every week I think "I should really write a blog post!", but I always find myself a little too exhausted to do so.
Well friends, I'm back! I missed the blog world so much! The first few months of the school year are always a little hectic, overwhelming, and stressful for me. It's only year 4 for me, so I'm still getting the hang of a lot of things. When they say that every day is a learning experience, they weren't kidding! 😉
Anyways-time for me to play a little catch up. What has been going on out there?! Hopefully every has had a great first 4 months of the 2013-14 school year!
We are spending our last 2 weeks before Christmas break doing some fun activities! I found this great free resource on TPT the other day that I just HAD to download. I have some friends in the military and really wanted to send something for Christmas. Well, found the perfect thing! This afternoon we spent 45 minutes coming up with "thank yous" for our troops and using our very *best* coloring skills. Just look at this coloring!!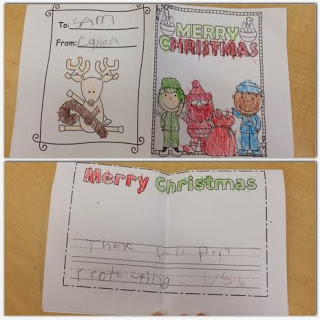 "Thank you for protecting us!"
Click the link below to make some cards with your kiddos, our troops will appreciate them! 🙂
Cards to Soldiers Freebie